Gaining access to environments on production environments
Development SSH access¶
This remains unchanged, and everyone who has the correct rights on the platform will always have access to all development environments within their organizations.
Requesting access to a production environment¶
On the detail page of an environment hosted on a production server architects will have access to a button that will grant them SSH access for a certain amount of time: 3, 12 or 24 hours.
If you wish to extend that time, every time you request access again it will reset the timer. So if you request access for 3 hours at 10:00 and then ask for 3 hours again at 10:30 you will have access until 13:30.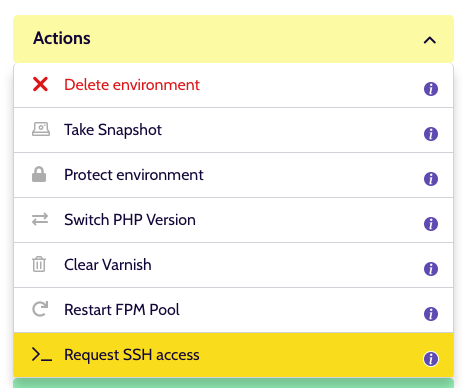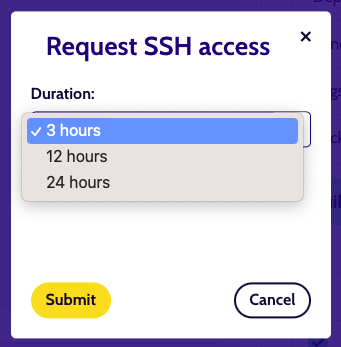 You can then use the information under the "general" tab to see what command you can use to SSH to this environment.
Checking who currently has access to an environment on a production server¶
In the Technical tab of an environment, you can see who currently has SSH access to the environment and for how long.
Checking what environments you currently have access to¶
By visiting your profile page, you can see a list of environments on production servers you currently have access to and until when.