How do I couple my domain to an environment
Add your domain to the environment¶
Select your project & environment where you want to add your domain to.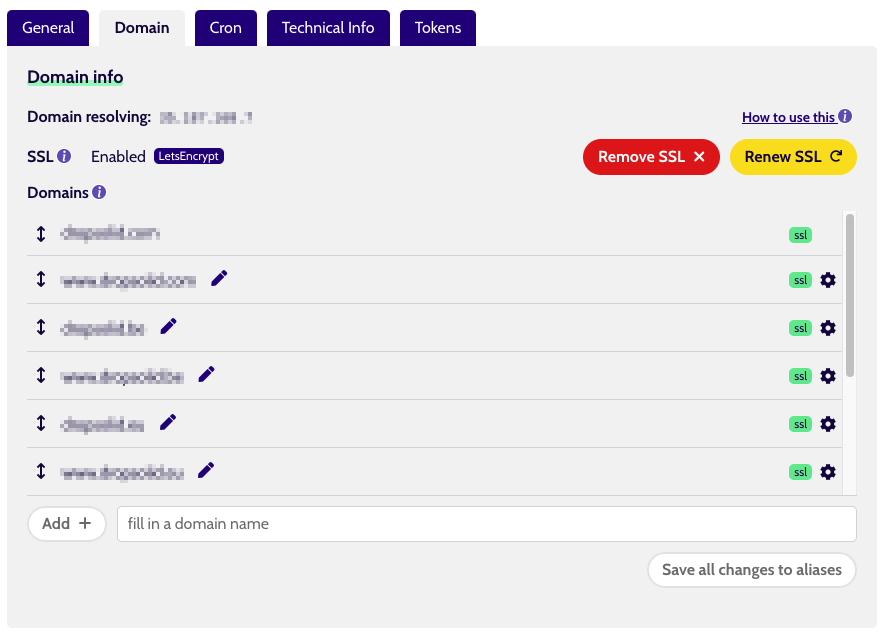 Next to the Add button, type your required domain that you want to link to the environment.
Click the add button & save all changes to active the changes.
Change your DNS to point to your project¶
In the screenshot above you can see our public IP from which you can resolve your website from.
A-record, or Address Record gives information about your host/domain name IP address. It is the link, the connection between your website's name and the IP address of the machine your files are on.
So, to couple your domain to Dropsolid and, as a consequence, your project it is necessary to add an A record.
Type: A
Name: @
Value: 35.187.168.7
Type: A
Name: www
Value:35.187.168.7
I'm managing my DNS with Combell/Gandi/GoDaddy/etc.. - Help?¶
No stress, you can find a list of the most used DNS providers here with instructions how to add or edit your DNS records.
Combell
https://support.combell.com/nl/wat-is-een-a-record-hoe-kan-ik-het-aanmaken-wijzigen/71
Gandi
https://docs.gandi.net/en/domain_names/common_operations/dns_records.html
GoDaddy
https://atenea.marfeel.com/atn/marfeel-press/systems-requirements/marfeel-s-content-delivery-network/create-type-a-record-for-godaddy